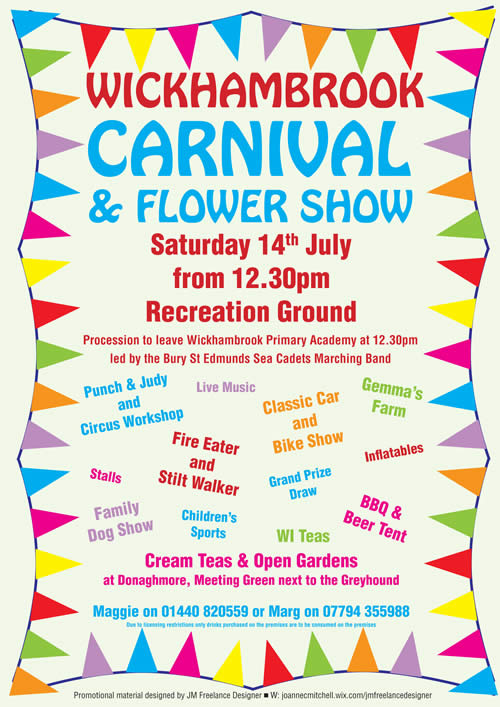 The 'walking procession' will leave Wickhambrook Primary Academy playground at 12.30 led by the Bury St Edmunds Sea Cadets Marching Band. This will take a short route through the village, approx 1.2 miles, and back to the MSC recreation ground. Those not wishing to walk the full route can join the procession at The Greyhound.
Please come along and join in the fun.
Volunteers
We are always looking for volunteers to help set up on the Friday evening and help on Carnival day, please, if you feel you could help in any way, however small, it would be very much appreciated. Please contact Maggie on 01440 820559, or any carnival committee member – Barbara Merritt, Deirdre Smith, Esme Jolland, Merlayn Wade, Elaine Poole, Margaret Gaylor.
On the recreation ground there are many activities, attractions and events. We have a Classic Car and Bike Show, a Family Dog Show, Punch and Judy with a circus workshop, Live Music, Bouncy Castles, Bungee Trampoline, Children's Sports to name but a few. There will be stalls selling a wide variety of goods, a Grand Raffle, BBQ and Beer Tent…
Fun Events
Classic Car and Bike Show, Punch & Judy and Circus Workshop
Lots to do
Inflatables, Children's Sports, Stalls
Get in touch
Please contact if you are interested in becoming involved with the Wickhambrook Show.