Outdoor Bowls update and caption competition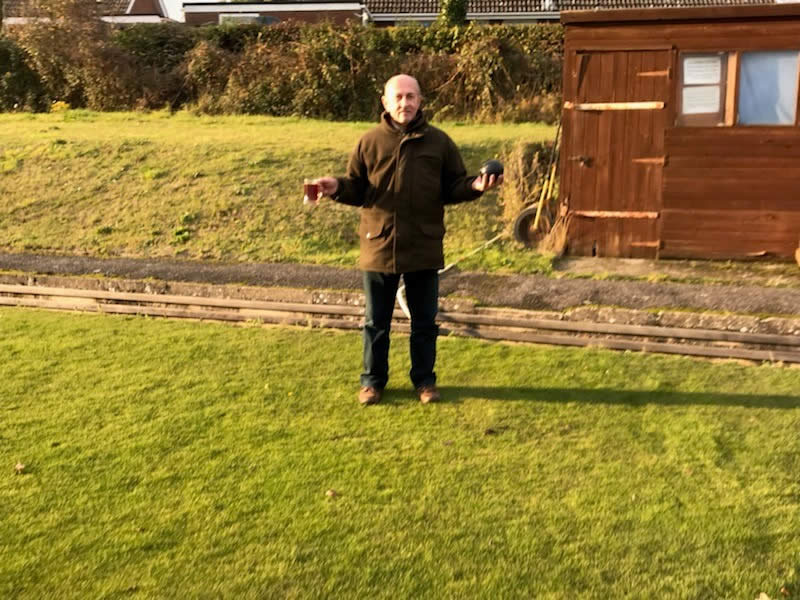 article submitted by Sonya Thorburn
Hello All and a very 'Happy New Year'! Yes 2019 is upon us and the Wickhambrook Outdoor Bowls Club is looking forward to the start of the season in April. No 'leagues' for us (unless anyone is really keen and wishes to take us forward) but just good, old fashioned, gentle sport for one and all.
We must firstly offer a huge thank you to Wickhambrook Parish Council who at their October meeting have all supported the move to maintain the surrounding area of the green, leaving the Club to keep the bowls green mown and playable throughout the season. The Parish Council are all to often the unsung heroes of the village but on this occasion we wish them to more publicly receive our very grateful thanks for removing this burden which will enable the Club to move forward, attract more players and enjoy every afternoon and evening possible with players from all generations and all abilities – please come and join us one and all (details at the foot of this article).
Back to the remaining few months before play starts and the results of our caption competition! We received hilarious captions for the photo of the Chairman on the telephone with first place going to :
Mr T from Wickhambrook for 'Hello Caller – you are now number 10 in the queue. Our Membership Secretary will be with you in approximately 20 minutes'

The second place goes to the laugh out loud caption of 'No that is correct Sir, the winner of the 'Spot the Jack' competition does receive a 2 hour Bowls Club session and the runner-up a 4 hour session'
Make of those what you will!
Meanwhile we have suspended the 'Spot the Jack' competition until play resumes in April so would like to offer you some little known facts about the game of bowls:
The green should form a square with sides between 30 and 40 metres long
The jack shall be round and white with a diameter of not less than 2 15/32 inches, nor more than 2 17/32 inches and not less than 8 oz nor more than 10 oz in weight.
Some bowls are made of a very hard wood called lignum vitae; such bowls must have a circumference not greater than 16 1/2 inches and must not weigh more than 3 1/2 lbs.
More to follow in the next article!
The caption competition this edition is the photo of the Chairman and again suggestions by email please to .
The Chairman's suggestion is:' I wish I'd had this before I started play – I may have managed a straighter bowl!'
Once again this can easily be beaten on the mirth scale!
Enquiries to the Chairman: charlestownsend@hotmail.com
Mobile: 07881 610138