Our Meeting House, or Chapel, is known as the 'bottom chapel' because it is at the lower end of Cemetery Hill, at Meeting Green (which was formerly Meeting House Green). The United Reformed Church was formed by uniting the Congregational and English Presbyterian Churches, later joined by The Churches of Christ.
Our people meet for worship each Sunday at 10.30am with different preachers conducting services as well as our regular services with our minister the Reverend Elaine Colechin which are at 9.30am. These services are friendly and helpful, and everyone is welcome to attend. We welcome children and adults of all ages.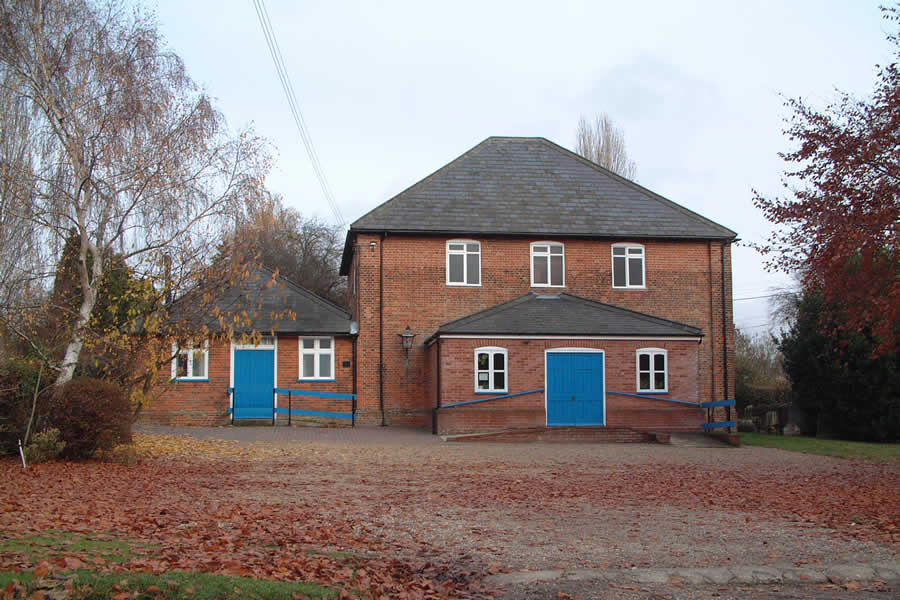 At various times during the year, we hold Fellowship Meetings – gatherings of friends who enjoy a varied programme of activities including Talks, videos on many different topics, Bible Study and informal worship. From October to May we meet on Tuesday afternoons at 3pm.
Details of these and other activities and special events are contained in our bi-monthly magazine, The Link, and also appear on the Notice Board outside the church.
Once again, all are very welcome.
Baptisms, Weddings and Funerals are conducted by our Minister, the Revd Elaine Colechin, who is always willing to meet with enquirers. Rev Colechin also ministers to Churches in Cheveley, Stetchworth and Whiting Street, Bury St Edmunds.
Our premises are available to hire for children's parties and meetings, please contact Mrs Valerie Orange (01440 820161) for further details or consult the booking form on the board in the main schoolroom for available times.
Further details are available from the Secretary.
Secretary
Miss Janet E. King
01284 850387
Minister
Rev Elaine Colechin
01284 763590
Treasurer
Peter Lister
01440 820132
The URC at Wickhambrook dates its Christian Witness back to 1670 when Samuel Cradock came to live at Gesyns (then called 'Geesings'). Revd Samuel Cradock had distinguished himself as an academic. Entering Emmanuel College, Cambridge aged 16 in 1637 he gained his B.A. in 1641; M.A. in 1644, was made a Fellow and Tutor 1645; incorporated Oxford M.A. in 1649 and gained a B.D. (Divinity) in 1651.
After teaching for several years at Emmanuel he was appointed Rector of North Cadbury in Somerset with what was then a high stipend of £300 a year in 1654. However, in 1662 an Act of Uniformity was passed, requiring all Ministers to 'conform' to certain beliefs and practices. About 2000 of the Clergy refused so to conform, and were ejected from their livings. Samuel Cradock was one of these. After 8 years of literary work and preaching in the houses of friends, he came to Wickhambrook – having had the good fortune to inherit the splendid Gesyns! Straight away he made his house a centre for 'non-conformist' worship, preaching twice each Sunday to all who came from the local villages. Even so, Samuel maintained good relations with the Vicar of Wickhambrook, and this has continued to the present day.
During most of the 17th century Non-conformists were not allowed to hold public Worship Services, or to study at Cambridge or Oxford. To overcome this, Dissenters worshipped in houses, and Dissenting academies were set up – including a most successful Academy at Gesyns. Many prominent Churchmen were educated in Wickhambrook! Cradock became friendly with Andrew Warner of Badmondisfield Hall (known locally as Bansfield) and the Warner's son Pagit, attended the Academy.
Many Dissenters suffered much persecution – fines and imprisonment for their illegal worship, but Cradock and his flock were not harmed. Then in 1689 an Act was passed allowing Dissenters to worship publicly. Andrew Warner provided a barn at Bansfield which was adapted and used for worship; this was licensed in 1695 by the Archdeacon of Sudbury. We still have this Licence, and it was re-presented 300 years later, in 1995, by the present Archdeacon at a special service held on the site of the Barn – which was burned down in the 1940s. In 1696 Cradock, now an old man, retired but his remains were brought back to the village when he died in 1706 and buried in front of the altar at All Saints Parish Church – a final friendly gesture!
Meanwhile, Dissenting Worship flourished at the Barn. Few records remain but we know that in 1718 a Mr Richmond was Minister and the congregation numbered 150, coming from many of the surrounding villages.
In 1726 Thomas Priest came to be Minister, also from Emanuel College, Cambridge. He kept a record of Baptisms (of which we have a copy, written in about 1820) but until he was Ordained (in 1728) he notes that baptisms were carried out 'by other hands'. These include the 'hands' of the Vicar of Wickhambrook, Revd Mr Grant, who baptised Elizabeth Partridge on 5th February 1728. Still good friends!
Thomas Priest had a private income and was generous with it. He presented the 'Dissenting Meeting' with a library of splendid leather-bound books. Two of these we have put into the Library of Westminster College, Cambridge; A New Testament in Greek and Latin with commentary by Beza, printed at Geneva 1589; and a Greek Text on the Prophets, printed at Oxford 1720. We still have several of the others.
Mr Priest (Whose portrait in crayon hangs in the present Chapel, was a very successful preacher and people were glad to walk to Bansfield Barn, but it was decided to build a new Chapel nearer to the village. After 'strenuous exertions' to raise the cost: £405 5s 11d the present building was erected at Moore Green. Thomas Priest contributed £133 of this. From the building of the Chapel (which had a stable for the Minister's horse!) the area around it became Meeting House Green, now Meeting Green. Thomas Cradock married Samuel Cradock's grand-daughter and they lived at Gesyns, which he had bought.
In 1815, when most of the country was occupied with the battle of Waterloo, the Dissenters of Wickhambrook were busy building a Schoolroom (or Meeting Room) on to the Chapel. By this time Revd Stephen Johnson was a minister, and he was a good preacher that extra accommodation was needed! The side galleries were also added at this time, and (probably) the roof of the chapel was made higher. The only major alterations since this time were in 1975 when a Children's Room and Toilets were added; and 1990 then a large porch was built across the front to the Chapel.