News from Wickhambrook Carnival Committee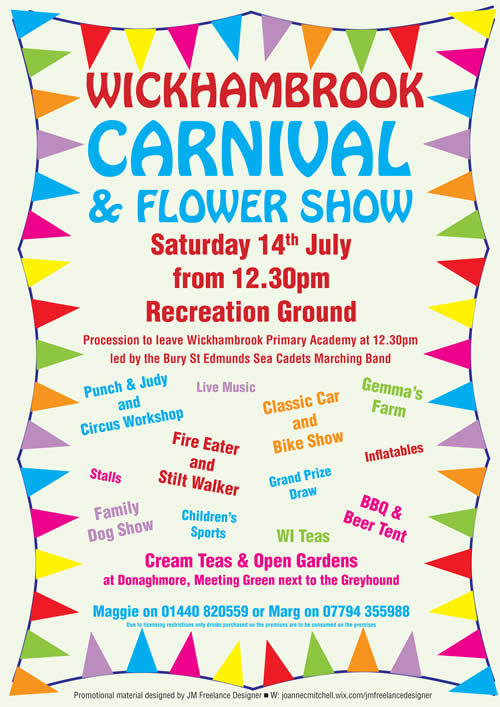 article submitted by Maggie Elers
Well, once again we held another successful carnival day last year, enabling us to help out with village activities.
We held the Children's Christmas Disco in November, which was attended by 60 children, who were entertained by the brilliant DNA Kids, always a good job from them. The children all visited Santa in his grotto and each child received a present. This event is open to all children living in the village or attending Wickhambrook Primary Academy, aged 11 years and under.
We were also able to help with the Greyhounds fantastic firework display and the Over 60's Christmas Lunch.
We raise funds for the village, whereby any local organisation can apply for funding for any project or equipment required for their club/organisation. Please contact Maggie Elers on 01440 820559 or email if you require any further information.
We are now in the throes of organising Carnival 2018, which will be held on Saturday 14th July 2018, to coincide with the Wickhambrook Horticultural Society's Annual Flower Show. We already have some attractions booked, but would welcome any ideas if there is anything you think may enhance our day. We have heard that some of the older children in the village would like something for their age group, please, we would welcome any ideas you have, or what events/activities you feel we could have. Please get in touch with any committee member with any suggestions you may have and we will do our best. Suggestions are always helpful, if you don't tell us what you would like, we cannot help.
We are also always looking for volunteers to help set up, help run a stall, help clear up, we only ask for an hour or two of your time. If you feel you can help in anyway, please get in touch with any committee member or email maggieelers@hotmail.co.uk. Any form of help is always appreciated.
Committee members

Maggie Elers, Barbara Merritt, Deirdre Smith, Merlayn Wade, Esme Jolland,
Elaine Poole, Karen Couzens, Jack Couzens, Margaret Gaylor.
Again, a big thank you for all your help and support because without this there would be no Carnival.