Zipwire – Wickhambrook Play Area Improvements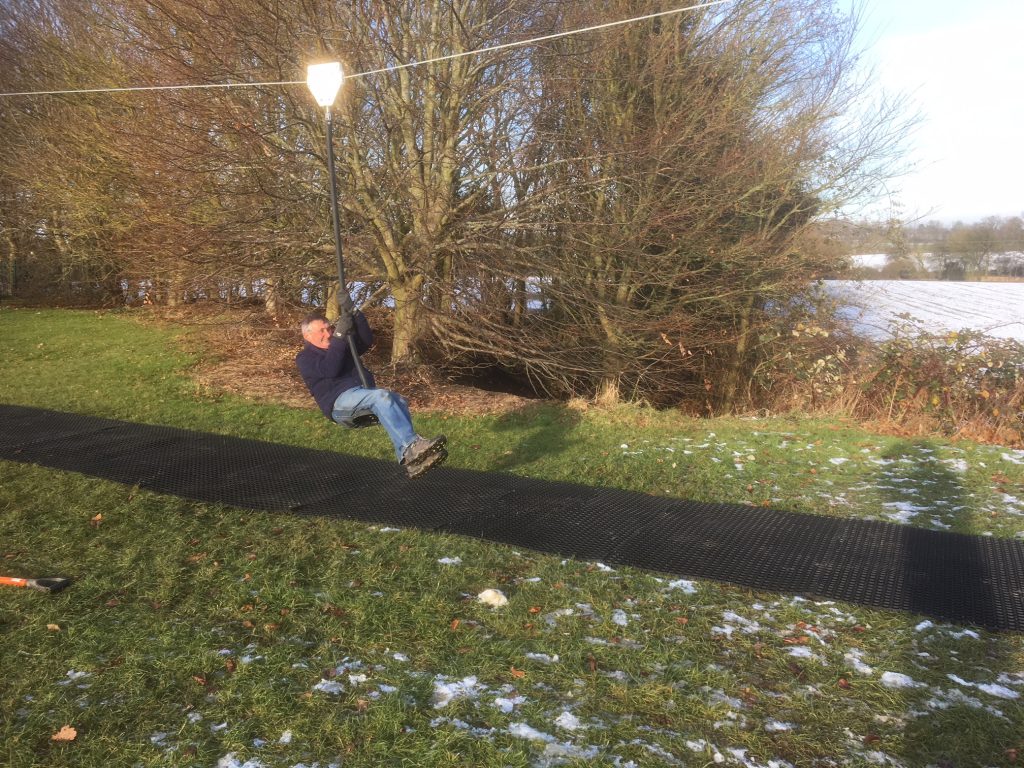 article submitted by Roger Merry – Estates Committee Lay Member and Playground Safety Inspector
Discussions on a project to provide a Cableway (Zipwire) for the youngsters of Wickhambrook has been ongoing for a couple of years and finally we have made it. The idea came out of my grandchildren (and myself!) getting such a buzz out of using the one at Cheveley and inspired me to go for it. I think that they are the best bits of kit ever and also feel strongly that wood is the best material for playgrounds on both visual and environmental grounds. The products produced by Fenland Leisure, a local Norfolk company, fit this tag very well. They are well thought out and tested, structurally very sound and are made of pressure treated, very solid wood and are in my opinion visually very attractive.
The pictures show
a) the early stages,
b) the big push to erect the framework for the take-off point and
c) the excellent ride I achieved in the first test run, even though there is little natural slope on our field.
This dispels any doubts voiced by members of the Estates Committee concerning the ride not being exciting enough. Lots of children have been using it already even though the weather has been very cold and wet. I am sure that in the future the youngsters of Wickhambrook will get a lot of pleasure from it.
The next step is to replace the skins on the Skate Park Fun Box and carry out minor repairs to the surface. I also have visions for tidying up the Teen Project area and in particular refurbishing and/or improving features in the Skate Park, but that depends on competing for cash with other Wickhambrook projects and/or raising grant money.